"I want to be known as the Real Estate agent who gets the job done in a responsible, fair, and honest way. I want to go to bed each night knowing I did everything I could, in the best way I could do it. I am proud of what I do and how I work. I believe it is possible to be professional, successful, and productive, all while having some fun and enjoying life along the way! Don't ever lose sight of what is truly important!"

Marcy grew up outside of Rochester, NY. She attended Keuka College for two years and then followed her family to Massachusetts where she graduated from Westfield State College with a BS in Business Management.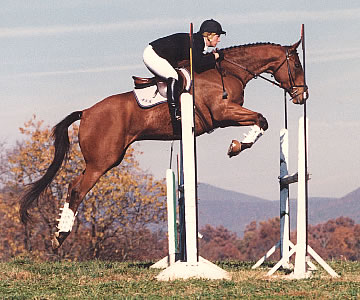 Marcy's love of horses began early. She started riding when she was 10 years old, joined The United States Pony Clubs, and moved through the ranks – eventually graduating at the "B" level. Pony Club got her involved in the sport of 3-Day Eventing. In 1985 Marcy moved to Upperville, VA to pursue her love of horses. While living and working in the Middleburg/Upperville area, Marcy continued competing and progressed to the Intermediate Level.
In 1989, Marcy married and moved to Clarke Co. In 1992 her son came along, who of course turned out to be the joy of her life. The horses took a back seat for a while. Upon her son's graduation from college, Marcy picked up the reins once again and continues to enjoy time in the saddle.
Marcy got her real estate license in 1993 because she thought it would be a flexible career. It would allow her to take care of her son as well as fit the horses into her life. Little did she realize how much she would enjoy the work and the people. Living in the area since 1985, Marcy feels as though she belongs here and has become entwined in this beautiful countryside. She believes in keeping her business local so that she can be of the most possible help to her clients.
In 2000, Marcy became a single mom. Part of that transformation included re-evaluating her career path. In 2003 she decided to take on the challenge of becoming a Managing Broker. After 4 1/2 years of a very educational experience she decided to return to her first love in Real Estate – working directly with the buyers and the sellers. So, in June of 2007, she once again became a full time Realtor and has been enjoying it ever since!
Certifications & Recognition




National Sales Award, top 5% in the United States
Certified Residential Specialist

Accredited Buyers Representative

Lifetime member of The Master Sales Society

Graduate of the Weichert Real Estate School

Honored several times as Top Producer, Top Lister, Top Dollar Volume & Top Sales

Member of Dulles Area Association of Realtors

DAAR Board of Directors 2006-2008

Managing Broker of Weichert Realtors, Purcellville office 2003-2007

Joined Middleburg Real Estate | Atoka Properties 2011

Bachelor of Science, Business Management